At Bike-On, unbeatable customer satisfaction has been at the forefront for more than 20 years. We have grown organically from 2 employees in a garage to a full scale team, showroom and warehouse to meet the needs of our customers. Our team is focused on producing industry-leading satisfaction, commitment, and knowledge at every opportunity.

Let us help you Bike-On!
Co-Owner + Chief Executive Officer
Co-Owner + Chief Production Officer
Chris has been with Bike-On for close to 13 years and has worked his way up from tinkering in Scott's backyard to co-owner & Chief executive officer. When not working, you can find him swinging some clubs, and doing some yard work with his beagles rolling around, all while paying close attention to whatever New England sports team is playing that day. What does he enjoy most about being on this team? "Knowing I have the opportunity to be a part of something that can change the world, one customer at a time".
Director, Business Development
Steve Chapman has over 30 years of experience in durable medical and adaptive sports equipment sales, and he's an accomplished para-athlete. Paralyzed at age 19, he took some time adjusting to life in a wheelchair, but through the support of family, friends, and mentors, he soon found his way into adaptive sports. Since then, he has become an accomplished athlete, competing at the national level in hand cycling, wheelchair basketball, and tennis. He is passionate about the outdoors and getting others involved in adaptive sports & he dedicates much of his free time to supporting new para-athletes.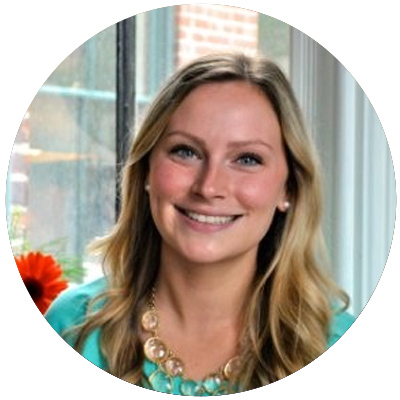 Marketing + Events Manager
Vanessa fell into the event planning industry after college and has planned scientific conferences, weddings, national trade shows, virtual shows, etc… You name it, she's probably dabbled in it. When she's not working, she's probably with her family of two beagles, baby boy, and her other half or exploring the food scene. In the event/marketing industry, it's always been super rewarding to see your hard work come to life, but it's that much more rewarding when you get to make a positive impact in so many lives!
Kyle is known as the 'Dwight Schrute' of Bike-On for his attention to detail, punctuality, and obscure knowledge of everything. He loves working with the sales reps and watching them grow and learn about the industry and the adaptive community. When he's not working (which is very rare!) you can find him riding his recumbent, playing with his 90-pound bundle of joy mixed breed dog named Aurora, a lap dog in a pit bull's body who will attack you with love. He loves working with like-minded people that want to help the adaptive community grow!
Stacey's official title is Operations Lead, but she is also our supplier of sweets, a lover of all animals, and keeps our headquarters in check. After working in a variety of industries over the years, she saw an opening with us and she's been a great fit! When not working or hanging with the love of her life Kitten, you can find her going to concerts, baking up a storm, hiking, or enjoying a lazy Sunday.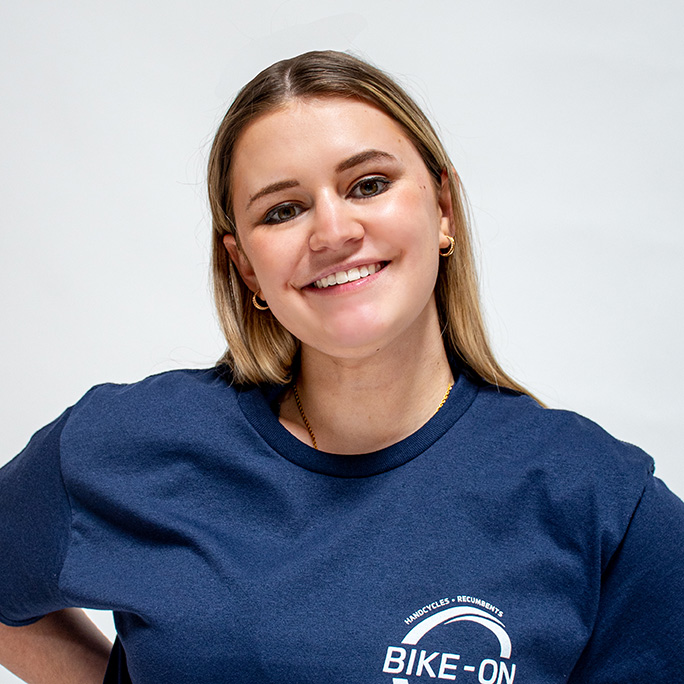 Kaitlyn is a recent graduate from JWU with a ton of photography and graphic design experience. She's a die-hard Swiftie with a knack for capturing great moments on camera as well as executing well-thought-out designs. She puts her best effort into everything she does and has made a huge impact on our team and brand. When she's not working, you can find her listening to Taylor Swift, photographing people, reading, or playing the Sims.
Customer Success Coordinator
Doyle is most passionate about getting products to customers that are appropriate for them and work. There's a special feeling when you're able to help someone with their independence and activity level! When he's not working, you can find Doyle riding his handcycle, on the tennis courts, or relaxing watching baseball.
Dave is another one of our sales associates and an avid mountain biker, water skier, and all things active! You may recognize him as he's been with us for quite some time and is a full-time recreational therapist with our friends at @nepassage! We're glad he made the switch from architecture to therapeutic recreational studies because he's able to do what he loves: plan events, help people, and run some awesome adaptive programs.
Alicia comes to our team after spending the past 11 years as a competitive handcyclist on the US Paralympics Cycling National team. When not riding, you can find her gardening, trying to learn how to sew, or fixing something around her house. She already fits right in with our team due to her work ethic, knowledge, experience, and because coffee would be impossible for her to give up!
Ed comes to us with years of consulting and sales experience as well as a passion for figuring out the optimal solution to an inquiry or challenge for both customers and coworkers. His favorite part of being on the team? "The fact that the products we sell improve the lives of the disabled and being surrounded by smart, young people who are passionate about what they're doing" When he's not working, he's hanging out with his daughter, Paddy his furry best friend, and of course handcycling!
Erik comes to us with over fifteen years of handcycling experience! When not working, catch him handcycling, monoskiing, or hanging with his wife Beth and their three pets, Herman, Macy, and Jane.
Elliot's been a handcyclist for about 8 ½ years, but recently became nationally classified as an H3 cyclist and began cycling in US Paracycling sanctioned events. Elliot's mission: "I'm on a path to get new cyclists on the road. Every time I ride my bike, I hope someone with a lower limb disability spots me and becomes inspired to research ways to obtain a handcycle of their own. I want to help build the handcycling community in the United States.
Ryen is currently training & competing in the Paralympics while also working for Bike-On and at her local YMCA. She's a fierce hand cyclist competitor and has competed in multiple world cups located in Canada, Belgium, Germany, Italy and Huntsville, AL. She currently maintains the women's H4 National Champion in the time trial and road races for 2019, 2021, and 2022. Her life and career would not be possible at all without the support of her family throughout her entire life. Ryen strives to inspire as many people as she can and make the world a better place.
Introducing Omar Benitez, a wheelchair basketball player, whose journey has taken him to the Rollin Knicks team in New York. With a string of achievements under his belt, including NWBA championships in 2018 and 2019, Omar is killing it in the world of adaptive sports. But his passion doesn't stop on the basketball court. Omar is also on the Patriots Wheelchair Football team through Move United. Beyond his impressive athletic feats, Omar is known for his generous spirit, and is always eager to help others discover and relish the joys of adaptive sports.
Danielle's from New York but currently lives in Oregon with her boyfriend and pomeranian, Chai. She loves to handcycle, monoski, knit, and enjoy the outdoors. She's an occupational therapist that specializes in the hands and arm with a special certification in hand therapy.She's passionate about adaptive sports as it helps her to inspire her patients to pursue what they love in whatever way possible. She's an amazing handcyclist, and is a founding member of the Challenged Athlete Foundation Women's Handcycling Team and has been racing for 5 years as a handcyclist. She's raced internationally at 3 World Cups as well as various National Championships and other domestic races.
Katie's a lover of adaptive sports and adventure and has been handcycling and playing wheelchair rugby for five years. You'll find her exploring Colorado in her handcycle, camping, fishing, or enjoying hiking trails as she loves to try anything that crosses her path. She sustained a spinal cord injury at 19 and very quickly fell in love with adaptive sports and immersed herself in the adaptive sports world.
Peter grew up in California and went into the US Marine Corps after high school. As a disabled veteran, he works at the PVA, Paralyzed Veterans of America as the cycling manager. You'll find Peter hitting the trails on his handcycle, monosking, or hanging out with his five dogs. He love's all military organizations who helps out our injured and wounded veterans and is super passionate about helping individuals with disabilities to stay active and developing the best adaptive cycling team. We are so pumped to have you on the team Peter!
Barry Wilcox  comes to us from Port Angeles, WA, with a background in exercise science and sports medicine. He's always had a passion for and love for bikes, he was a US team member as an able-bodied individual pre-spinal cord injury and sees racing hand bikes as his second chance. Having been a clinical exercise physiologist and college instructor, he now focuses on handbike racing for Team USA, along with teaching. His passion lies in both helping people maximize their abilities and promoting cycling's health benefits for individuals of all abilities. 
Click the button below to view our unfilled positions.
Nalini Bhushan
Absolutely remarkable, from my initial contact to completion of purchase. Vinnie is a talented and honest salesperson and an authentic individual. He made sure that the delivery of my son's trike to his new group home was on time; he explained its many features with patience and insight. He is committed to the products he sells for the company and to the customers who choose to buy them.
Deb Witaszek
Recently ordered a wheelchair from Bike-On I have been dealing with them for approximately 20 years for my hand cycle and wheelchair needs. They've always been professional and courteous with very reasonable pricing. I would highly recommend them.
Rod Swain
Bike on is a company that I would deal with in the future for sure their service is absolutely stellar. They understand the issues of the handicap and they do whatever they Gotta do to make things right. Really great company to deal with very nice people hope to deal with them again in the future.
Hala Lettieri
I love Bike-On. I've bought two manual wheelchairs through them, and am planning an adaptive cycle purchase. They are helpful, knowledgeable and responsive—and they understand the concerns and priorities of active folks with disabilities. Can't wait to get my new chair!
Stephen Singer
Very Very pleased with the great customer service and impressed with the high quality bike. My 14 year old autistic son loves the bike and so do I. 100+% satisfied and would highly recommend.